First Day of School is on Monday, August 26, 2019. SIS Portal is open to review your schedules.
Hornet Cagers Cop Tourney Title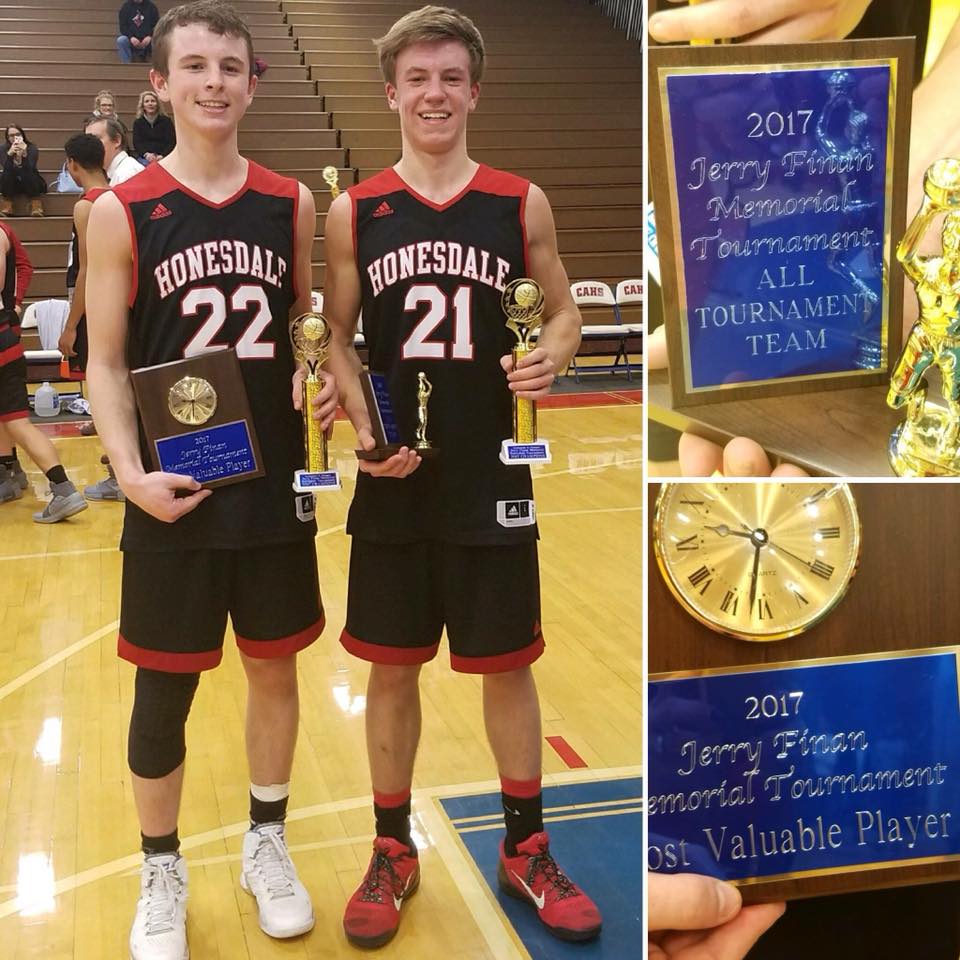 In the renewal of an ancient high school hoops rivalry, Honesdale and Carbondale Area squared off Monday night in the championship game of the Jerry Finan Memorial Tournament.
The Hornets punched their ticket to the final with a razor-thin win over West Scranton on Sunday. The Chargers advanced via a rout of Forest City.
Back-to-Back
And so, before a big enthusiastic crowd in the Pioneer City, the two teams put on an entertaining show that see-sawed back and forth for three quarters.
Honesdale finally took control of the game in the final stanza, holding Carbondale to just four points down the stretch.
Thanks in large part to the efforts of tournament Most Valuable Player Anthony DeGori and All-Tourney Team selection Colin Rickard, the Red & Black emerged with a solid 50-39 victory.
"I'm definitely happy with the win," Coach Tim Wood said. "We played much better in the second half, but there are a lot of facets of the game where we need to improve.
"It's always nice walk away from this tournament with a championship, but this team is far from a finished product."
Weather permitting, the local lads will be back on the hardwood Friday for their 2017-18 home debut against Riverside.
Opening tip is set for 7:15 p.m. at the Red Palace.
Stage Set

On the heels of a disappointing loss to Pocono Mountain East in a nonleague contest, Honesdale was looking to get back on track versus West Scranton on Sunday.
The Hornets and Invaders battled to a near-stalemate through three quarters. In fact, the Red & Black trailed by two points heading in the fourth period Coach Wood's squad finally took charge, though, erupting for 18 points and posting a 46-43 decision.
Joey Scarfalloto led the attack. The sophomore center powered his way to a game-high 18 while also hauling in eight boards.
Rickard played a key role as well, balancing Scarfalloto's presence in the paint by running the break and sniping away from the perimeter. By the time it was over, Colin had tickled the twine for 14 points.
DeGori contributed five to the cause, while Garyn Barnes added three. Justin LoBasso, Will Howell and Noah Pender rounded out the scoring with two each.
Title Tilt
Carbondale entered the championship game on a roll, having blasted Forest City by a score of 79-55 in the other semifinal.
The 1-2 punch of Keegan Durkin and Andream Manarchuk combined for 30 points in this one, a game the Chargers put away early via a 33-point eruption in the first quarter.
On Monday, however, they found the sledding a little bit rougher against Honesdale's relentless man-to-man defense.
The Hornets took a 15-12 lead after once, thanks to DeGori's long-range sharp shooting and Scarfalloto's dominance in the post.
Anthony brought a big contingent of Honesdale fans to its feet by draining a deep trey as time expired, giving the Hornets their three-point bulge.
"I'm very pleased with how Anthony played," said Coach Wood. "It seemed like every time we needed a big play, he delivered."
To their credit, though, the Pioneer City lads battled back in the second period. Led by All-Tournament selections Mike Zazzera and Bobby Salitsky, Carbondale clawed its way to a 26-24 advantage at intermission.
Rickard ignited the Red & Black at both ends of the floor in the second half.
Colin knocked down the first shot he took, a threepointer from the corner, and just sizzled from there. He would finish up the evening with 11 points, two steals and two assists.
"Colin really gave us a spark there in the third quarter," Coach Wood said. "He played hard at both ends of the court."
Honesdale took the lead for good midway through the final period as DeGori, Rickard, LoBasso and Scarfalloto each contributed key buckets.
Colin and Justin broke free for back-to-back fastbreak layups, forcing Coach Gabriel to call timeout with 6:53 left in regulation.
Unfortunately for fans of the home team, the ploy didn't work. Gabriel had to burn another timeout less than three minutes later after a DeGori basket in the paint pushed Honesdale's margin to 46-35.
The MVP closed out the title tilt with 16 points, while Rickard added 11 and Scarfalloto chipped in with 10.
Zazzera and Salitsky finished with 13 apiece for Carbondale Area.
Score by Quarters...
HON (2-1) 15 9 14 12 – 50 CAR (2-1) 12 14 9 4 – 39
Article Courtesy of:
Kevin Edwards
The Wayne Independent